So You Want To Be A Divestment Banker?
As a precursor to our CV-burning clinics, our resident careers consultant Fi Marquette has assembled a series of useless guides to bagging yourself an
As a precursor to our CV-burning clinics, our resident careers consultant Fi Marquette has assembled a series of useless guides to bagging yourself an egregious grad scheme.
'Why waste away in Mergers & Acquisitions when you can fulfill your days in Sustainability & Taxation?'
Investment Banking is so pre-08; if you want a fulfilling life and to be rich (metaphysically that is), we offer you Divestment Banking. Not everyone can have a concern for social justice quite on par with Iain Duncan Smith. So if you're worried that your irrepressible capacity for human empathy, your concerning apathy for your future bank balance, and you indomitable drive for civic duty will hold you back in the rat race of city success – then pull your eyes from the spring week prize, become a divestment banker.
So what is Divestment Banking?
Divestment banks advise large corporations on how to be more socially responsible towards the environment by removing investments from ecologically threatened regions.
Requirements
Worry not, Divestment Banks care little about the excruciating circumstances that exonerate your C in GCSE Latin. In fact, academics are of little interest to these institutions. What they want is a clear evidence of interest in the Divestment industry and demonstration of that elusive environmental awareness. Exhibiting interest is easy enough at Warwick with a whole host of societies catering for the industry. We recommend the recently founded Virtual Divestment Club. If you want neat tips and tricks to get behind in the world of finance, remember to pickup your Countryside Careers Series: Divestment Handbook for more information.
Extracurricular activities allow you to express in-demand skills. For past successful applicants, this has included the challenging, yet well-respected annexation of university buildings in the name of divestment. While little tangible difference is made to the running of the university and it's investment in oil and gas companies, the occupation of university property demonstrates teamwork and enthusiasm in the face of futility.
Tests and interviews
Compulsory numerical and critical thinking tests provide an opportunity to show off the transitory skills of your degree while interviews consist of intellectually challenging technical and environmental questions.
But it's not all stress and competition, the application process provides plenty of downtime to mix with (both of) the other applicants. We recommend diffusing the tension by bonding over a shared musical predilection. The Hoar finance editor's current Spotify Playlist include: The Libortines, The FooTSE Fighters, Johnny Cash, Lloyd Banks and most perversely The LostProfits.
Spring yourself into a Summer Placement (No pun intern-ded) 
Due to domination of the industry by sociopaths, an array of Affirmative Action schemes have been launched by disillusioned former employees.
While this has led to more entry level positions for the empathetic and morally sound people of this world, we are wary of wholesale improvement unless things change in the upper strata of the divestment game.
As unpaid internships remain the preserve of parent-pushed achievers, prissy posh summer-costs-covered types, and living-cost-covered Londoners, The Divestment Banking industry generally avoids formal foot in the door programs. So you won't even have to worry about early applications, converting internships, schmoozing the powers that be, and sabotaging your competitors for the role. Hell, a summer spent 'finding yourself' in the narcotic haze of the Andes will likely be better prep for divestment banking than any city scheme can offer.
CV and LinkedIn
For those wasting away in Human Resources, there is nothing more salacious than a systematically-assembled CV, Power Letter and LinkedIn profile. We advocate following a similar structure to a recent successful applicant: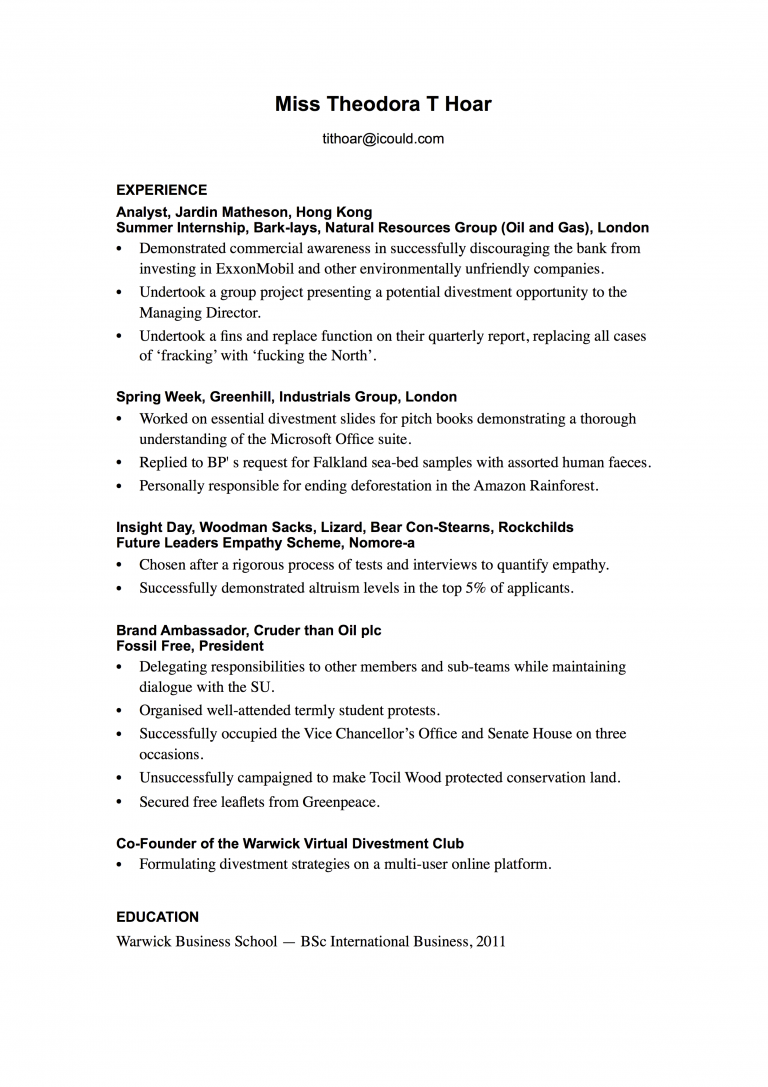 Becoming an analyst and exit opportunities
Being an analyst is arduous and demanding. You will be working interminable hours, wading through monotonous spreadsheets and socialising with colleagues described by one former analyst as 'sanctimonious gits'. However, the three years of slaving away will be worth it when you reach the promised land of Private Inequity and Hedge Cutting.
Low salaries are supplemented by a favourable daily bonus system, consisting of happiness, moral riches and Aristotelian self-realisation. Applicants should be wary of job insecurity during periods of economic boom. There are widespread fears of the consequences to bonuses if George Osborne's long term economic plan was to finally come to fruition. Nonetheless,the job certainly comes with its perks. Bark-lays recently opened 'Walden', an organic, dairy-free, locally produced worker's canteen on premises. TripAdvisor currently rates it at 4/5, with one recent visitor, 'BobbyDiamond12' raving, 'the Li Boar casserole was a steal at £3.50'. That's not to forget the attractive international opportunities. An analyst at Woodman Sacks recently raved about a Team Building Protest exercise in Westminster and the annual conservation trip to Costa Rica, while ten lucky analysts at Lizard will spend 6 months on secondment at their international office in Vanuatu.
The public have not taken well to these supposed bonuses with happiness being seen as detrimental to the capitalist endgame. Despite this, we at the Hoar couldn't be prouder than Jeremy Hunt's mum in seeing upstanding Warwick graduates enter the industry. So, if you're more conservationist than conservative, more Thoreau than Trump, and really care about making a difference in the world, carpe noctem, and become a Divestment Banker.
Waste no more time arguing about what a good man should be. Be one. Choose.
Mark Aurelius – Graduate Recruiter
CV burning clinics coming soon…
(Main image via)