Goose shot dead after first year falls into humanities pond
Death of beloved 'Graham the Goose' sparks outrage on campus…
On Monday afternoon around 14:34, campus snipers were called to take out a violent goose in humanities Japanese garden after first year psychology student took a tumble into the pond.
Tim Tattersbee had reportedly been looking for the whereabouts of the elusive 'humani-ducklings' when the sudden movement of a goldfish in the water caused him to lose his balance and fall in to the pond.
CCTV footage shows whilst Tim began to flap about in a state of panic and confusion, he was slowly approached by a local goose whom witnesses claimed to have been whistling the Jaws theme tune. As the goose came closer, tea and coffee drinkers of the Humanities Café began banging on the glass to try and warn Tim of the approaching 'devil bird'. Cries were also heard first year psychology mentor Karren Karrensbee who proceeded to shout encouraging messages to Tim such as "It's okay mentor's here!" and "You were probably only going to get a 2:2 anyway".
In a climactic moment, the humanities goose was seen to lurch forwards and began flapping its wings towards Tim in what has been identified as a sadistic ritual before a goose attacks its prey. It was at this point snipers on the south-facing roof were ordered to take out the goose "before things got messy".
The backlash to this event has been huge. We now understand that the goose involved in the incident was none other than Instagram favourite and local hero: Graham the Goose. Many tributes have been paid to Graham on social media by important figures such as ex-vice chancellor Nigel Thrift: "R.I.P big G, you will be sorely missed #legend" and Warwick maintenance worker Howard Dustman "Heart of gold that little guy, wouldn't ever catch him as a character on angry birds would you? #geeseforlife".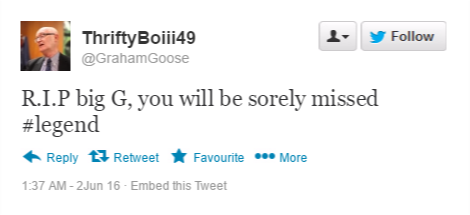 Behavioural zoologist, Dr Spleinburger, has condemned the actions of campus snipers on Reddit, vouching that Graham was clearly trying to cool Tim down because he looked hot.
Finally, Warwick Goose Society President — Ashley Pondsford — has labelled the incident a 'sickening attack' and has linked the death to yet another attempt by overseas students to wipe out the campus geese forever. The Anti-Racist Bird Society is yet to comment.